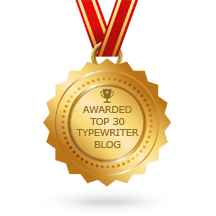 I was recently informed that my blog was selected by Feedspot as one of the top 30 typewriter blogs. Indeed, thanks. I do not use any content reader myself, but I have noticed that a smattering of visitors have been directed here by Feedspot. Again, thanks.
That said, most of my readers find Type-Writer.org by search engine, and generally they are looking for a particular machine. (The Hermes Rocket/Baby and, oddly enough, the Royal Dart are popular search terms.) Otherwise, people land here by visiting the Typosphere.
As for Feedspot's list of top 30 typewriter blogs, well, I can only observe that only 26 are listed, and a few of the most important blogs are missing. Ted Munk's To Type, Shoot Straight, and Speak the Truth… is not listed (http://munk.org/typecast/). Nor is the Typewriter Database, which though is not presented as a blog seems to run off some blogging platform (this site is also maintained by Munk). These sites should certainly make the cut.
© 2018, Mark Adams. All rights reserved.