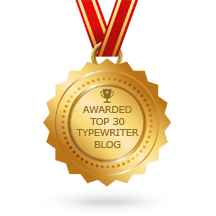 I was recently informed that my blog was selected by Feedspot as one of the top 30 typewriter blogs. Indeed, thanks. I do not use any content reader myself, but I have noticed that a smattering of visitors have been directed here by Feedspot. Again, thanks.
That said, most of my readers find Type-Writer.org by search engine, and generally they are looking for a particular machine. (The Hermes Rocket/Baby and, oddly enough, the Royal Dart are popular search terms.) Otherwise, people land here by visiting the Typosphere.
As for Feedspot's list of top 30 typewriter blogs, well, I can only observe that only 26 are listed, and a few of the most important blogs are missing. Ted Munk's To Type, Shoot Straight, and Speak the Truth… is not listed (http://munk.org/typecast/). Nor is the Typewriter Database, which though is not presented as a blog seems to run off some blogging platform (this site is also maintained by Munk). These sites should certainly make the cut.
You can view Feedspot's (unranked?) list here.
How do people find Type-Writer.org? Here are the top 10 referrers:
Search engine (typically Google)
The Typosphere (Typosphere.Blogspot.com)
TypewriterDatabase.com (usually from my listings)
Richard Polt's The Typewriter Revolution (http://writingball.blogspot.com/)
The now defunct idreamlo-tech.blogspot.com (oh, how I miss this blog)
Facebook (thanks Zuckerburg, that's very friendly of you)
Richard Polt's Classic Typewriter Page (http://site.xavier.edu/polt/typewriters/) – despite not being a "blog," I'd include it on the top 30 typewriter blogs
Robert Messenger's oz.Typewriter blog – unquestionably one of the more important (and engaging) typewriter blogs
YouTube
Ted Munk's above-mentioned blog
© 2018, Mark Adams. All rights reserved.